Now that the weather has finally warmed up in Northern Colorado and we are hopefully done with the snow for a while (fingers crossed), it is the perfect time to jump right into your annual spring cleaning routine! Spring cleaning is a great way to refresh your home and give it a good deep clean that can help keep your home looking wonderful throughout the next few months.
While some people look forward to spring cleaning and ridding their home of unnecessary items they have collected over the year, others find themselves stuck trying to figure out where to start. That is where we come in!
Whether you want us to do your spring cleaning for you or you just want some tips on tasks that need to be done, our team is here to help! At Clean Bees Homekeepers in Fort Collins, we can provide home cleaning services that allow you to get the spring clean you need. However, we know that some people want to do their own cleaning, so we have put together a list of tasks that should be done with every spring cleaning! Read on to see the full checklist and contact us to schedule your home cleaning!
Clean the Cabinets
One great place to start your spring cleaning is the cabinets. Cleaning out the drawers and cabinets in your kitchen and bathroom can help you rid your home of things you no longer need. From nearly empty boxes of stale crackers to outdated makeup, you can get rid of a ton when you start by cleaning out your cabinets.
Go through each cabinet and drawer in your home, throw items away, reorganize the stuff you are keeping, and be sure to wipe out the drawers and cabinets! One of the main points of spring cleaning is to get everything in tip-top shape, which is why it is a must that you wipe out cabinets and drawers. You will be amazed at how much gunk gathers in the corners of these areas.
But wiping out the inside of your cabinets and drawers is not the only thing that should be done, you should also wipe down the outside, especially in your kitchen! Residue from cooking can cling to your cabinets, leaving them less than perfect. You can find a cabinet cleaner that can help give your cabinets a brand new look.
Clean the Windows
Even if you clean your windows regularly, chances are you are not giving them the full attention they need! When it comes time to do a spring cleaning treatment on your windows, you will want to go to the extreme.
Start by taking off the screens on your windows if you have them. These collect dust overtime and could use a cleaning of their own. Take your screens outside and wipe down the edges to remove dirt, cobwebs, and other debris. You can spray down the actual screen part with your garden hose and give them a gentle wipe with a cloth or scrubbing brush. Use a mixture of lukewarm water and vinegar to scrub your screen and rinse them off with water. You can leave your screens outside to dry while you finish cleaning the rest of your windows.
For the actual window, you will want to clean the inside and outside with window cleaner, this may only be possible for the windows on the first floor of your home. Make sure you get every corner to remove any dust or cobwebs that may have collected over the past few months. Be sure to also clean the window sill. This is where dead bugs, dirt, and other debris collect over time. You can use a vacuum attachment to suck up any loose debris before wiping it down with a cloth and water!
Walls and Floorboards
You clean your floors regularly, but what about your walls and floorboards? It is simple to look past these places in your home because they do not gather dirt and debris as much as the floors, but wiping them down during your spring cleaning is a great way to give your home a fresh look and feel. Use a cleaner or dusting product and a cloth to wipe down these areas. You will be amazed at how many finger smudges and how much grime has covered your walls that you didn't even notice.
If you want to take your spring cleaning to the next level, vacuum the ceiling! We know, this sounds intense and slightly dangerous, but you can simply just use an attachment on your vacuum to remove dust and cobwebs from the corners and edges of your ceiling.
Ceiling Fans
Speaking of cleaning the ceiling, wiping down ceiling fans and light fixtures is another great cleaning task to add to your spring cleaning checklist! Even if you leave your ceiling fan on 24/7, it will collect dust. Once you turn it off you will be repulsed by the thick black layer of dirt and dust that has gathered along the edges of your fan blades. Depending on what your fan is made of, you will want to clean it with a cloth and water or cleaning products. Wipe down each fan blade well to remove this collection of grime. And while you are up there, you might as well dust and wipe down the rest of the fan!
Clean Your Carpets
If you have carpet flooring throughout areas of your home, this is a perfect time to get them cleaned. Whether you rent a carpet cleaner to clean them yourself or hire a company to do it for you, this is an important task that you should add to your list. Carpets can get dirty and collect dust, dirt, hair, pet dander, and just about anything else you drop on the floor. Getting your carpets professionally cleaned or using a carpet cleaner is a great way to keep your floors looking great and allows them to last longer. You will be amazed at how much better your carpets look after you give them a deep clean.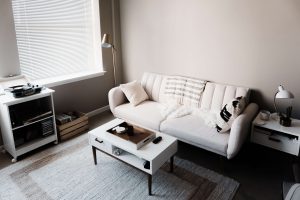 Clean Everything
While it may take you some time, spring cleaning can help you get your home back in order and allow you to declutter, reorganize, and get your home in tip-top shape. This is the time when you should clean everything well and make sure you do not skip any cleaning tasks. Dust all of your surfaces, polish furniture, clean couch covers and upholstered furniture, and throw away anything that you no longer need.
It can be simple to want to skip certain cleaning tasks as you go through your entire home. Just because your bathroom was cleaned a week ago doesn't mean you can't give it a good deep clean during your spring cleaning session. If you really don't want to spend an entire day inside cleaning while the weather is beautiful, we can help!
Be sure to contact Clean Bees Homekeepers in Fort Collins today to schedule your home cleaning! We will be able to help with a variety of different cleaning tasks that you may want to skip.